Microsoft India did not spare a chance to troll as Google services suffered brief outage around the world
27 January 2014 By Bhavyanshu Parasher
#How it started?
Recently Google's many services were down on Friday. They acknowledged the outage at 11:12 a.m. Pacific Time (1912 GMT), said a little over an hour later that the problem with Gmail and other services had been resolved. It was really hilarious to see everyone's reaction on twitter about the outage. Some said now was a chance for Yahoo and Microsoft to promote their services.
#What's the big deal?
Yahoo Inc, which also runs a mail service, posted a screenshot of the Gmail error page to Twitter. Yahoo later apologized for it and deleted the tweet. Microsoft India, on the other hand, did take the suggestion pretty seriously though. I took a snapshot of what they had tweeted. Take a look at it for yourself.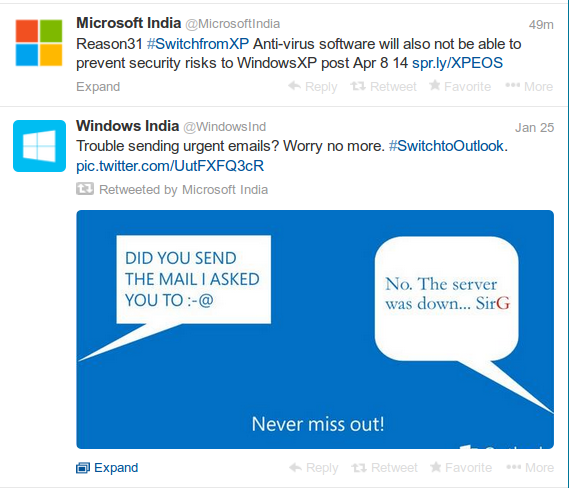 The tweet was originally from @WindowsInd but was retweeted by @MicrosoftIndia. The picture probably depicts that a boss asks an employee, "Did you send the email I asked you to?", and then the employee replies "No, the server was down…SirG". Well, that was very creative of them if we consider their level of maturity and seriousness for their computer products and services. I believe if they would show the same level of creativity and effort in making their OS and servers secure, they would do a lot better in this industry.
Microsoft India clearly needs to work on their marketing skills. I mean your office suite might be good as you say it is but atleast don't act so desperate. Well, they are already telling people to switch from XP. This tweet was hilarious. According to this tweet I think they mean to say is that they gonna spread a virus to infect systems running XP so that people are forced to buy Windows 8 by April 2014. Maybe my interpretation is wrong [sarcasm] but whatever happened was hilarious. So let's just read about these random mocks between giants and laugh out loud at who is acting in a more kiddish way.
---
---
blog comments powered by

Disqus